Jiangmen Junfa Safety Glass Co., Ltd. Was founded in 1992 with thehead quarter located in a golden industrial area of Jiangmen city and another base in Taishan city which is 30km away from the head quarter. Total annual processing capacity reaches 3 million m². It is a comprehensive and large scale safety glass manufacturer which is focusing on architectural glass, furniture glass and special glass with security purpose. The main products includes flat tempering glass, curved tempering glass, insulating glass, laminated glass, self-cleaning glass, Low-E glass, heat-reflective glass, ceramic frit glass, fire-proof glass and compound glass by the glass above-mentioned.

Junfa Glass is a council member of Guangdong Provincial Quality Inspection Association and always carries a quality control concept of set up a good example to cultivate talents, maintain high quality to strengthen the enterprise. Junfa Glass certified Australia and New Zealand AS/NZS 2008 standard, China CCC standard certification and IS09001:2015 quality management system etc.

Powerful combination and mutual promotion with advantage,Junfa Glass has been partnership with the benchmarking glass enterprise-China South Glass Holdings Ltd., Xinyi Glass Holding Ltd. and Shanghai Yaohua Pilkington Glass. Junfa grows by adopting the advanced management experience of advantaged enterprises.

In the future Junfa Glass will take efforts jointly with partners to enlargethe enterprise value and social value by carrying the principle of make good use of the talent and serve clients with sincere.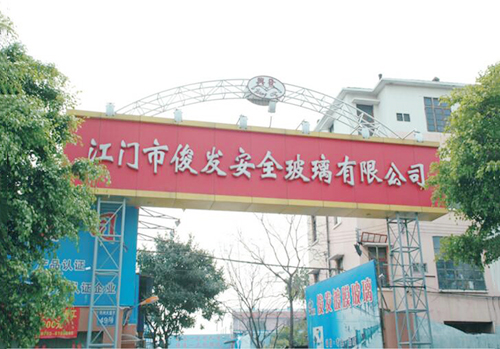 Jiangmen Junfa Safety Glass Co., Ltd. Xinhui Headquarter was founded in 1992 which is located in Xinhui district, Jiangmen city of China.The factory runs with series of imported and domestic advanced equipments including flat and curved tempering lines, high convection tempering lines, laminated lines, IGU lines, ceramic frit lines etc. The production capacity reaches 2 million square meters per year. It is one of the biggest architectural glass processing bases in South China area and leadership of China energy saving and safety glass industrial with worldwide sales network.


Junfa Glass Taishan subsidiary was founded in 2012 which is located in Taishan City. The factory also runs with series of high quality imported or domestic equipment such as auto cutting lines, double edges grinding lines, flat and curved tempering glass, two stages high convection tempering glass,laminated lines, IGU lines etc. The production capacity reaches 1 million square meters per year.